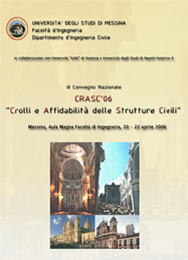 3rd Congress on "Collapses, Structural Reliability and Strengthening"
At: University of Messina
Messina, April 20-22, 2006
Organising Committee: N. Augenti, P. Colajanni, G. Falsone, N. Impollonia, G. Muscolino, E. Proverbio, G. Ricciardi, E. Siviero.
Scientific Committee: L. Ascione, G. Augusti, A. Baratta, F. Benedettini, L. Bertolini, F. Bontempi, A. Borri, R. Calzona, A. Carpinteri, F. Casciati, M. Ciampoli, R. Cigna, M. Como, E. Cosenza, M. Di Paola, A. Di Tommaso, B. Elsner, L. Faravelli, R. Giannini, G. Gusmano, F. Laudiero, P. Malerba, G. Mancini, G. Manfredi, M. Mezzina, F. Mola, M. Papia, T. Pastore, P. Pedeferri, S. Russo, G. Solari, R. Sparacio, E. Viola.